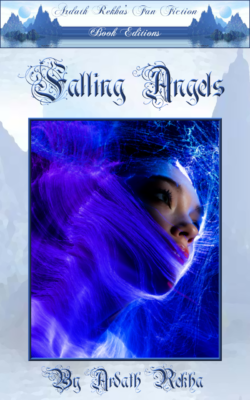 Synopsis: In the aftermath of the events of The Chronicles of Riddick, a presumed-dead Kyra wakes up with new life in her body and a new companion in her mind, to discover that Riddick has abdicated the Necromonger throne and disappeared. On what was formerly a mercenary vessel, Riddick and a tiny handful of fellow escapees flee Helion Prime and Riddick makes a surprising discovery about the woman he believed was Jack… and her adopted sister. And, on a distant world, a reformed teenage runaway discovers that her past is returning to haunt her with a vengeance. Now Kyra, Riddick, and Jack are on a collision course yet again, and the fate of worlds may hang in the balance.
Orientations: Gen (so far)
Pairings: None (so far)
Warnings: Controversial Subject Matter (Human Trafficking, Child Abuse, Refugee Crises, Genocide, Religious Extremism), Harsh Language
Number of Chapters: 6
Net Word Count:
Net word counts exclude title pages, tables of contents, chapter headings, original post date medatata, and — in the case of Lyric Wheel stories — song information and lyrics. In the case of articles, contextual notations are also omitted. Afterwords and chapter notes are treated as part of a text's overall body. 23,371
Total Word Count:
Total word counts include all text present in the ebook file, excluding page numbers where those are actively present. 23,907
Story Length: Novella
First Posted: September 1, 2007
Last Updated: December 30, 2022
Status: Incomplete
Times
Download to your E-Reader:
Download for printing:
---
The characters and events of
The Chronicles of Riddick
are © 2004 Universal Pictures, Radar Pictures, and One Race Films; Written and Directed by
David Twohy
; Based on characters by
Ken and
Jim Wheat
; Produced by
Scott Kroopf
and
Vin Diesel
. The characters and events of
The Chronicles of Riddick: Dark Fury
are © 2004 Universal Cartoon Studios; Directed by
Peter Chung
; Written by
Brett Matthews
; Story by David Twohy; Produced by
John Kafka
and
Jae Y. Moh
. The characters and events of
Pitch Black
are © 2000 USA Films, Gramercy Pictures, and Interscope Communications; Directed by David Twohy; Screenplay by Ken and Jim Wheat and David Twohy; Story by Ken and Jim Wheat; Produced by
Tom Engelman
. This work of fan fiction is a transformative work for entertainment purposes only, with no claims on, nor intent to infringe upon, the rights of the parties listed above. All additional characters and situations are the creation of, and remain the property of, Ardath Rekha. eBook design and cover art by
LaraRebooted
, incorporating an image created by
Merlin LightPainting
and licensed through
Pixabay
, the
Rothenberg Decorative
font from
1001 Fonts
, and background graphics © 1998 Noel Mollon, adapted and licensed via Teri Williams Carnright from the now-retired Fantasyland Graphics site (c. 2003). Chapter 1 illustration by Ardath Rekha, drawing from a photo by
2509chris
and a graphic by
SilviaP_Design
, both licensed via
pixabay
, along with a screencap of
Alexa Davalos
. This eBook may not be sold or advertised for sale. If you are a copyright holder of any of the referenced works, and believe that part or all of this eBook exceeds fair use practices under the Digital Millennium Copyright Act,
please contact Ardath Rekha
.
Rev. 2023.01.16